Automotive, Environment and Machinery Industry in China/Asia
Best Practice in Industry by Karlheinz Zuerl 2014 -2022
The successful projects and their results
The expert for cost management and business development in China and Asia
For your Path to Profit Growth
---
More details
ALL CHINESE EAT DOGS AND CATS!
1993 was the first time, Karlheinz came to China. He started in 2008 to discover other Asian countries and worked there.
As an entrepreneur and business man, he gained a foothold there for business and pleasure. Karlheinz is able to dispel mistakes about China.
At each project, he brought the land closer to the Europeans and the Western world, and finished all his projects successfully.
Every day in projects, for Westerners pitfalls cannot be avoided. Just avoid to step in at next project with same mistakes. So, his enormous cultural and industry experience in Asia is a guaranty for his customer ́s success.
What is the advantage of studying this e-book?
With Karlheinz ́s 40 years of automotive experience, his mandates range from classic general management to executive consulting for transformations in the supply chain and in quality management. With Karlheinz ́s enormous cultural and industry experience in Asia described within this E-book, you will receive following benefits:
Best practice in production and ramp up of lean manufacturing
How to restructure operation and quality management to achieve 0 defects.
How to bring employees behind a learning organization
How to develop business with growth in turnover and profit
How to improve supply chain and gain huge cost savings
How to increase utilization ratio of machines without additional investments
How to find new locations of plants in China and how to implement project management for relocation
How to improve sales organization to sign more contracts and get more business
How to restructure purchasing sector to save costs at dealing with non-productive material and productive material department
How to restructure project management to keep deadlines and prevent quality problems in order to keep the start of series production
How to handle effectively compliance processes at supply chain and improvements
Best practice in customer relationship management to gain back trust and confidence and to achieve more orders.
---
E-Book
ISBN 978-3-939366-72-0
1.Auflage 2022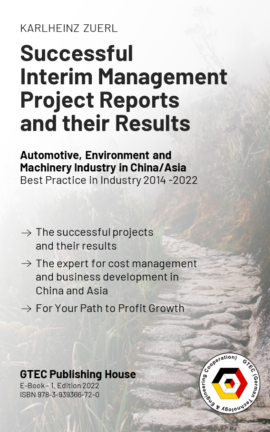 Author: Karlheinz Zuerl
Year of publication: 2022