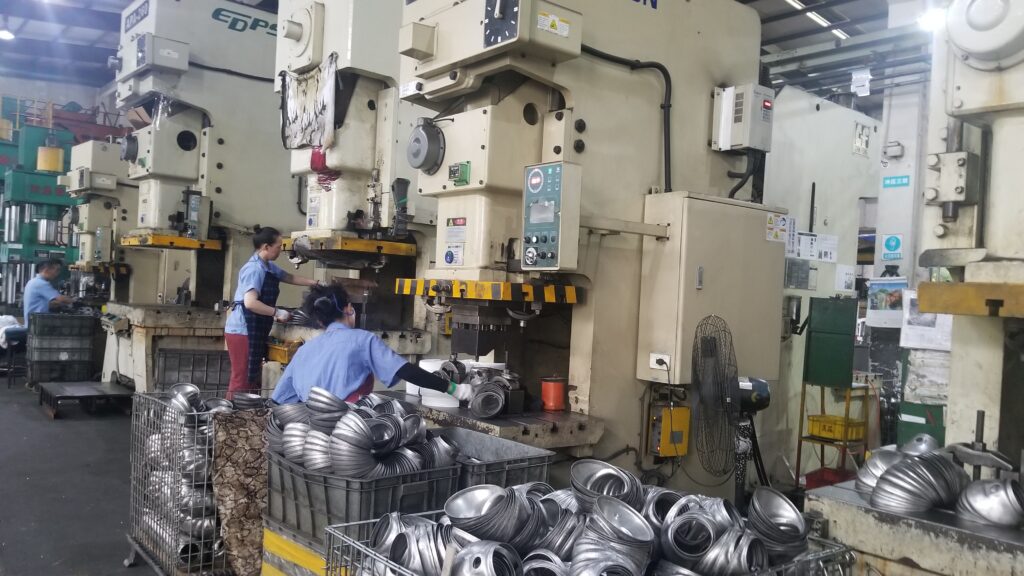 How did you manage to increase flowability at the generator line from 12.2 to 6.1 days per part?
Our Solutions were:
Flowability control (including WIP trend): Improved flow (or equivalent lead time) is a primary objective of operations. Once the root causes of the constraints were identified, the solution required some changes in the production process. It required a total re-design of the equipment, methods and layout of the work area. Employees needed to be retrained in order to understand the improvements. It also required a process to be monitored on a regular basis so as to track and trend its performance over time.
Improve throughput time: We eliminated throughput bottlenecks with increased manufacturing safety. Then reduced the part-rejection rate by improved employee training and using factory automation, where possible. We also put prototype build on a separate production line, not to interfere with serial production.
Reduction of manufacturing WIP: First, we forecasted and calculated WIP Levels where upon we shared capacity, adding machines and improved workforce, JIT (Just-in-Time) production, time savings and the allocation of the right operators. Benefits from WIP reduction were obtained through the use of extra machines or process improvements that reduced defects and produced more at a given time, among other things. The company policy, which encouraged departments to work well together for the benefit of the enterprise as a whole, also had a positive impact on WIP.
Just-in-Time Production (JIT): We were able to manufacture the products that the clients wanted at the desired quantities, just when they needed them. JIT depended on the utilization of control cues in inventory to indicate the need to produce products from raw materials. The outcome was a very large reduction in WIP and other issues such as overproduction and inaccurate inventory.
Time savings and allocating the right operator, including:

Manufacturing lead-time reduction: How can you reduce manufacturing lead time? We ordered smaller amounts more frequently. Larger orders took longer to fulfill and ship. Then made a clear lead-time contract with customers, which we kept what was promised by automation of our inventory management and let our suppliers knew about sales data. We had a weekly follow-up about TPS status, flowability status and WIP trends.
Value-stream analysis and mapping: This VSA/VSM illustrated the necessary process steps that existed from order entry to final product delivery and was useful for gaining a wide-reaching view of the company's activities. It allowed us to remove nonessential activities that created waste while maintaining the manufacturing process.
Takt management: Takt time is the rate at which we had to complete a product to meet customer demand. Takt time was our sell rate and was categorized as the heartbeat of our work process. It allowed us to optimize our capacity in the most appropriate way to meet demand without keeping too much inventory in reserve.
Summary: For a long time, resource utilization and efficiency had been the prime operational measurements in production. We changed our target to flowability, because of increasing productivity (calculated by Throughput (T) divided by operation expenses OE), increasing inventory turnover (calculated by Throughput (T)/Inventory), increasing cash flow (as throughput value T minus Operation expenses OE minus inventory increases), increasing sales output (finished goods) by Input TVC (total variable costs) + Throughput value (T), shorter ROI by (Throughput value (T) minus OE) /Investment
We aligned our organization to our goal by distinguishing between three operational measurements:
Throughput: The rate at which the system generates money through sales as the net of variable costs. This corresponds to the value added by the system.
Inventory: All the money that system has invested in purchasing things which it intends to sell. This was later expanded to include all investment such as plant, property, equipment, etc. 
Operating expense: "All the money the system spends in order to turn inventory into throughput." These fixed costs, such as rent and salaries, are incurred regardless of whether throughput increases or decreases.
More solutions you will find on our website and in our eBook shop.
If any questions and wishes, please contact me for a Zoom meeting in order to dig into details.
Karlheinz Zuerl
GTEC German Technology & Engineering Cooperation
Mobile: +86 134 8243 8080
Don´t wait, Asia is fast.
Contact us at [email protected] for improving quality or have a preview of our special 'Project Pack' for implementing Asaichi, Jidoka, design for manufacturability, poka-yoke and 5-piece counting at assembly in your Asian organization.
It's a better way to start your Lean journey for your quality improvements and profit growth. We are ready to support you in China, India, Malaysia, Philippines, Taiwan, Thailand, Vietnam. 
If any questions and wishes, please contact me for a Zoom meeting in order to dig into details together, to get your benefit out of our knowledge.
Author Karlheinz Zuerl
CEO of GTEC German Technology & Engineering Cooperation
Diplomatic Council Trusted Member