Target Group
This training unit is not only designed for logistics planning engineers, production planning engineers, industrial engineers and managers, but also for everyone who is interested in working in and further developing the fields of logistics and production.
Objectives and Content
Optimal internal logistic processes are critical for an efficient production process: The right material needs to be at the right place in the right quantities at the right time. Guiding principles originating from lean production, such as "kanban" systems and "milk-run", are introduced in this course. Additionally, the transfer of these principles into the digital factory is discussed. The training contents are supported by hands-on application scenarios in our Innovation Center.
Why this training is very important for your career and for your company?
Learn how to create optimal internal logistic processes
learn how to increase efficiency of your production process
Outline
Introduction of lean internal logistics
Smart material replenishment strategies
Material ABC/XYZ-analysis ABC/XYZ
Kanban system
Internal milk-run system
Introduction of internal logistics technical solutions & equipment ·

Internal logistics equipment
AGV introduction and assessment AGV

Smart Internal Logistics Management in the era of Industry 4.0
How to plan & optimize internal logistics process from one leading consulting company
Learning by doing: case studies

a) Application cases in the Industry 4.0 Demonstration and Innovation Center

Lessons learned and experience summary
参加对象
本次培训不仅适用于物流规划工程师、生产规划工程师、工业工程师和管理人员,同时也为有兴趣从事和进一步在物流和生产领域发展的人员量身定制。
目标与内容
优化的内部物流流程是对有效的生产流程至关重要:正确的物料需要在正确的时间以正确的数量送到正确的工位。基于精益生产管理思想,如信息看板管理和物料循环配送将在本次培训中详细介绍。此外,物流的数字化如何在数字化工厂的转型也将重点介绍。本次培训还将展示中德工业4.0技术展示创新中心的实际应用场景。
大纲
精益内部物流介绍
智能化物料配送策略
物料分析法
看板管理系统
内部循环供货系统
内部物流管理技术解决方案和相应设备介绍
工业 4.0 时代下的智慧化内部物流管
咨询公司方法论分享:如何规划和优化企业内部物流管理流程
从实践中学习:案例分析

a) 在中德工业 4.0 技术展示创新中心的实际应用

经验分享与总结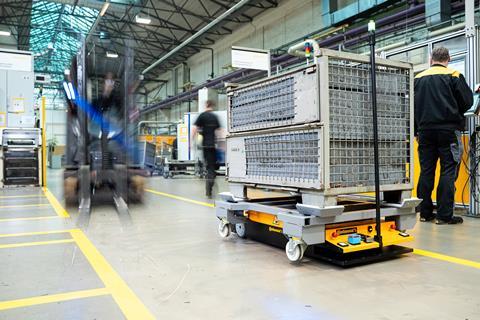 If interested in, please send an email or call us for asking details and for quick enrollment process.